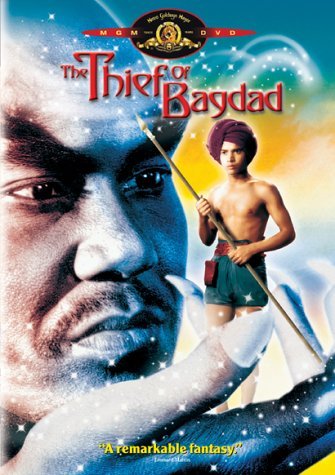 Film Recommendation: The Thief of Bagdad
I had a memorable, if not historic night, at tonight's monthly Queer/Art/Film event at IFC put on by Butt magazine's Adam Baran & Ira Sachs. I really wanted to see this man in real life- especially after seeing Bidgood's Pink Narcissus, and having met and done a portrait of Bruce Benderson for EastVillageBoys who worked on putting the Taschen book together of Bidgood's photography, I really wanted to see this man in real life. What happens at this monthly event is a queer director presents a film that has inspired them, and does a short q&a afterward about their own work and how the film influenced them.
The Thief of Bagdad had beautiful color, and fantastical imagery and set design that doesn't appear in movies today. Bidgood argues that this is a result of overinformation, so we are left with facts which while intended to be enlightening can also confine ones mind from wild and beautiful imaginations that might otherwise exist. We know what the middle east (Arabia) looks like now, and most places of the world.. so there's less wonderment of that magical place far away from here where tall tales grow.
Our standards of cinema have also changed, seeing the special effects when the movie was first released were unlike anything people had seen, and thus very believable.. where our eyes now have adapted to different standards and seeing it today looks a bit more artificial but still as enjoyable.
Bidgood is one sure quirky guy.. very entertaining. It was inspiring in a way to hear from a guy who's been at it for so long and though beaten down time and again- and dirt poor, hasn't given up. What screw is loose that I don't have that kind of resolve?
If you don't know the story of the making of Pink Narcissus.. here is the introduction of Bidgood'd interview with BUTT Magazine:
"It was a hot June morning in New York when after a long hike up an endless flight of stairs, I met the photographer and filmmaker James Bidgood. Famous for his ethereal photography of beautiful young men in the 1960s, James Bidgood directed, produced and wrote the iconic 1971 film Pink Narcissus, starring Bobby Kendall. Nearly all of the film was shot in Mr. Bidgood's Hell's Kitchen apartment between 1963 and 1971 where he lived within the sets he built. Before the film reached completion, it was taken from him by investors and edited without his involvement, creating something Bidgood says he couldn't even follow himself or stay awake through. Devastated after having spent the past seven years of his life making the film, he refused to sign his name to the project and for years it was credited to 'Anonymous', which led many to think that perhaps Andy Warhol was behind it. When I arrived at his apartment, Mr. Bidgood asked the first question."
—[Read full interview here]
Here's what's coming up next:
IFC Queer/Art/Film Schedule